If you follow me on Twitter (and you should), you will know that since about 3 months ago, I started roasting my own coffee. Yes, my coffee madness has culminated over the years to this. This was my first roast: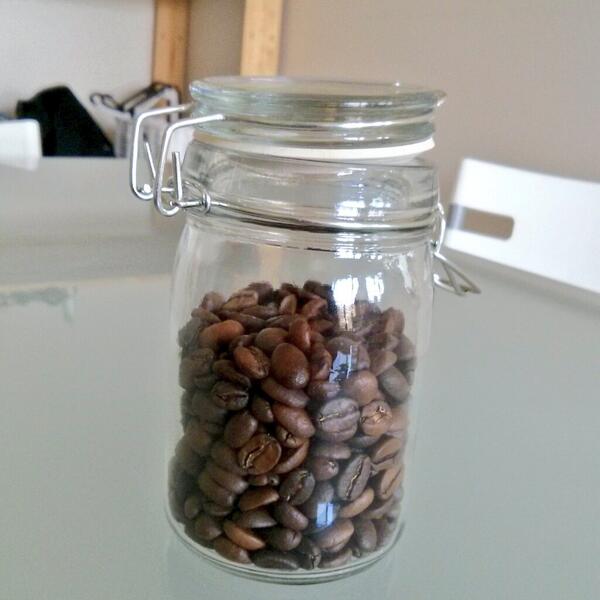 Since then I have roasted 16 batches. The variables I vary are: temperature, time, pre-roast mass, and technique. I use a regular $10 popcorn popper from KMart to roast my beans (I originally wanted to purchase a Behmor
, but I decided that I should stay lean while learning how to roast coffee) – and I have a thermometer to roughly gauge the temperatures of the popcorn popper. Eventually I'll hook the thermometer up to an Arduino, but that's a story for another day.
Despite all the controls, I had problems with my roasts. They were okay to drink – not as bad as buying supermarket coffee, but they weren't excellent. The main problem was consistency. My roasts were not consistent – some beans were darker than the others. Here were the factors that caused the beans to be inconsistently roasted:
Different sized beans – Can't do much here.
Uneven heating – various causes:

Popcorn popper too hot
Popcorn popper doesn't agitate the beans fast enough (too heavy? too light?)
Popcorn popper doesn't agitate the beans randomly enough
Location of beans in popper
I eventually narrowed it down to the fact that the popcorn popper was too hot – it burns some beans before they could be agitated out. In fact, after the first two throwaway attempts of the roasting, I realized that 7 minutes or so in a popcorn popper as recommended by amateur roasters on the Internet would just burn my beans.
I did a quick lookup, and true enough, most amateur roasters on the web are Americans (or live in America). Are American popcorn poppers different?
Continue reading →