I went to a shopping mall today and I noticed they had installed a new feature in the parking lot[1] – it's one of those things that told you whether a lot was taken. If a lot was taken, a red light will shine, and a green light will shine if a lot isn't occupied. I've seen a lot of those in parking lots, but this one actually interested me. Here's how it looks like: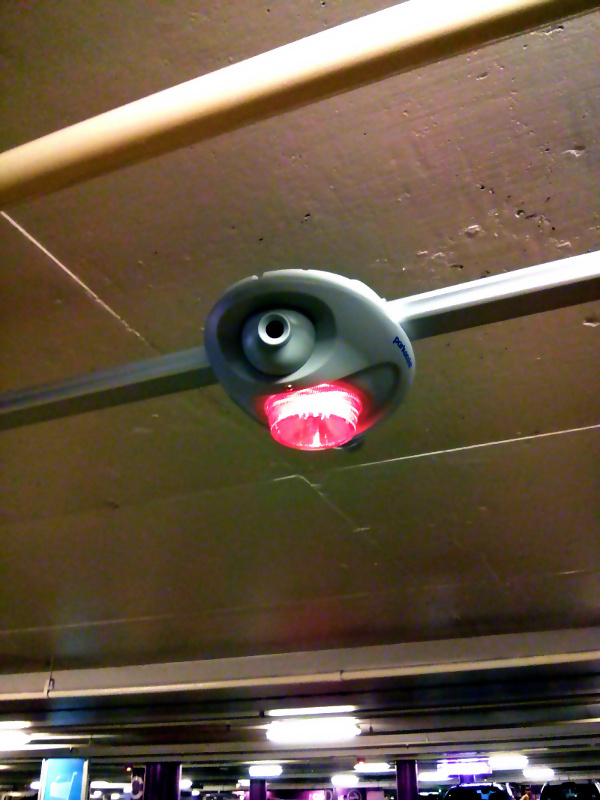 It's a potato quality photo, but I think it shows how it works quite well. The system used is the ParkAssist M3. A camera is trained onto a parking lot. If there is a car with a licence plate in the lot, the system will know that the lot is taken, and display a red light. There are two cameras, so one light represents two spots.
As I walked past it, I had a hunch on how it worked – it uses computer vision, and one thought led to another, and I soon began to think about the two major ways of thinking about products. Well, technically there are three. If you were to give an assignment to any random guy off the street to design a parking lot monitoring system, there would be one of three broad response types: give up, innovation or invention. I'm not going to even deign discussing giving up.
This line of thought was quite influenced by a talk by Alan Kay I watched earlier this week:
After our shopping, I pointed out the cameras to my partner, who immediately asked "are those cameras?", followed by "but that's so wasteful!". That was her inner electronics engineer speaking. Both she and I knew that there were cheaper, and probably more efficient methods of designing parking lot indicator solutions. She also highlighted her way of thinking: The innovator.
Continue reading →
[1] They had actually installed it at the end of last year, but I never bothered to notice how exactly it worked till now ↩